Buy Brackets & Bet the Madness!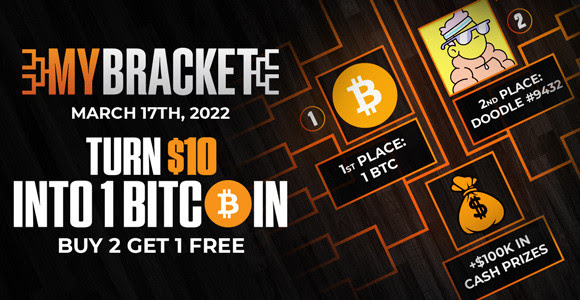 Last Chance to Turn Brackets into Bitcoin!
Build the ultimate 63-Game March Madness Bracket for your chance to win 1 Bitcoin in our MyBracket Contest. Increase your chances of winning an NFT: Doodle #9432 or a slice of $100K in Cash by purchasing up to 50 entries for $10 each. Want to double down on Bracket SZN? Turn a Sweet 16 Bracket into $16K in our MyBracket16 $50K Contest. Stay tuned for more information.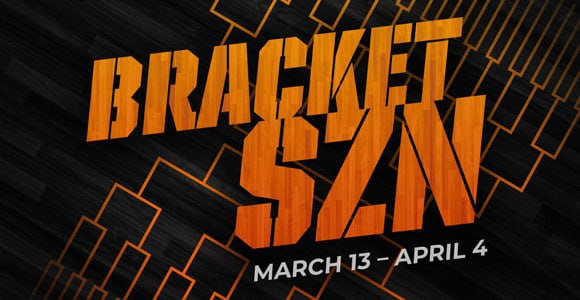 Hammer Favorites All Month Long!
Gonzaga (+280), Arizona (+600), and Kentucky (+650) have the best odds to win the National Championship. The lowest seed to ever win March Madness was No. 8 Villanova in 1985. The point? Bet the favorites. Don't sweat the points and parlay Gonzaga and Kentucky on Friday.
NCAA First Round – March 17th:
Georgia State +23½ (-110) vs. Gonzaga -23½ (-110)
St. Peter's +18 (-110) vs. Kentucky -18 (-110)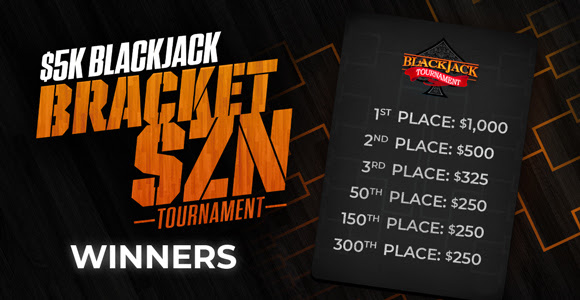 Turn Madness Into Cash!
Win big in three crazy Blackjack Tournaments offering $20K+ in Cash Prizes, Crazy Payouts spots up to $350, and unlimited $5 rebuys!
Upcoming Tournaments:
· March 15th-20th: $5K March Madness Tournament
Top prize: $1,000.
Top 300 players win cash prizes.
Four Crazy Payouts spots of $250.
· March 22nd-27th: $8K March Madness Tournament
Top prize: $1,250.
Top 400 players win cash prizes.
Four Crazy Payouts spots of $300.
· March 29th-April 3rd: $10K March Madness Tournament
Top prize: $1,500.
Top 500 players win cash prizes.
Five Crazy Payouts spots of $350.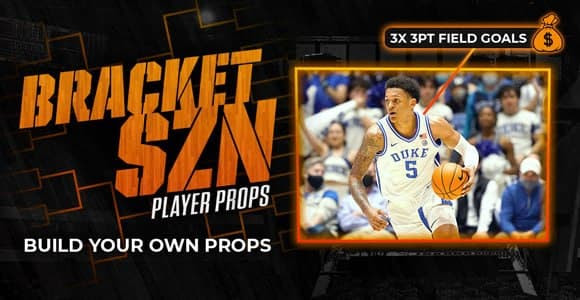 March Madness Props Available!
The First Four starts today! Create epic same-game props parlays with the Props Builder for Indiana vs. Wyoming, Notre Dame vs. Rutgers, and more! A $50 wager on Indiana and Wyoming to each score 65+ points would net you $150!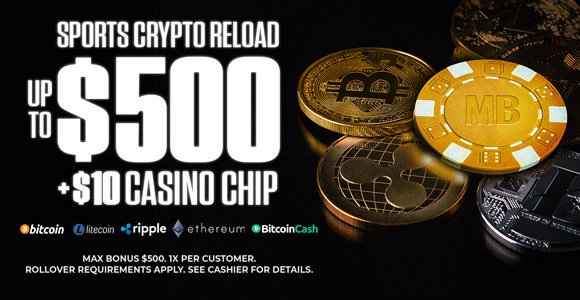 Crypto Means Bigger Bonuses, Faster Payouts, and Zero Fees!
Did you know that you earn Crypto Rewards on every credit card deposit? Make your first Crypto deposit of $45 or more to turn your Crypto Rewards into cash! Continue to receive rewards with our Crypto Re-Up Bonus. A 5% cash bonus will be added to your Crypto Re-Up balance with each deposit of $45 or more.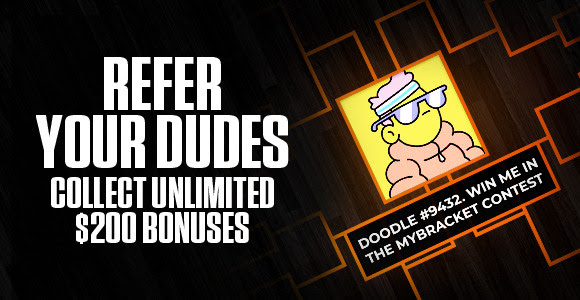 Get Your Friends in on the Madness and We'll Pay You!
Receive a 200% Bonus up to $200 every time someone you refer deposits for the first time. UNLIMITED BONUSES!
About MyBookie:
Online gaming pioneers created MyBookie in 2014, vowing to improve services where so many other brands failed.
MyBookie's top priorities have always been the easiest deposits, the fastest payouts and the absolute best customer service. Since launching, MyBookie has delivered on its promise of excellent service as well as easy, fast deposits and payouts. That's not to mention providing an always-expanding selection of sports odds for players at all levels.