Mybookie SuperContest
The Mybookie SuperContest original $150,000 prizepool, was increased to $225,000 after the August 29-30th weekend. Already, showing more than 1300+ registrations as of Aug. 30th, 2019, with registration still open for one more week before the official NFL Season Kicksoff. MyBookie is hoping to exceed the minimum breakeven entries of 2,250 at $100 per entry. (August, 30th, 2019)
So there you have it more ways to win, more reasons to enter!
The final tally for the MyBookie SuperContest had 3300 entries at $100 each for a grand total of a $330,000 guaranteed prize pool.
Updated (Sept 19th, 2019):  $125K cash prize to 1st and paying out the top 231 finishers with additional $12,500 Quarterly Prizes to be won.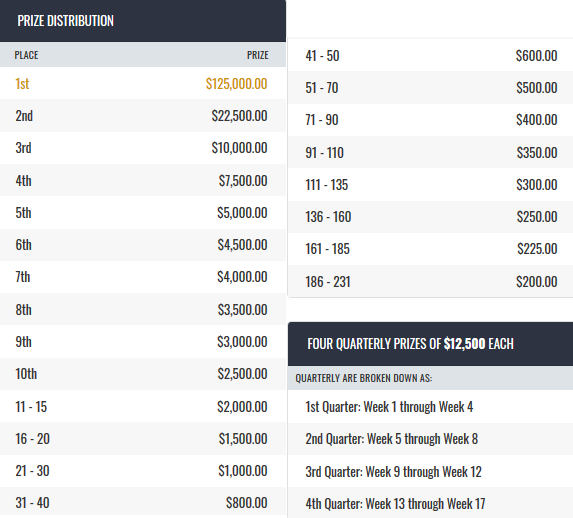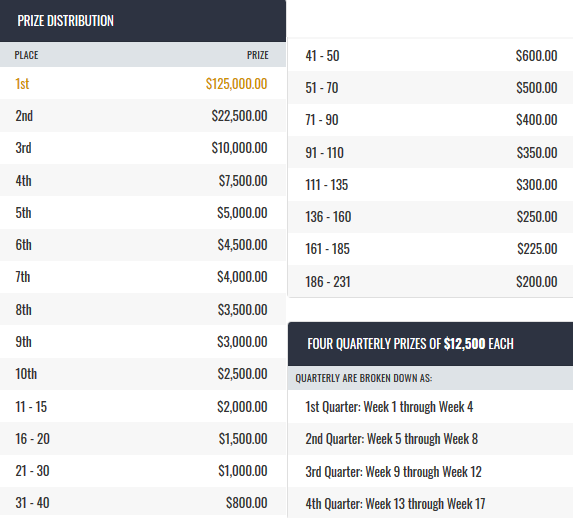 Here a link to the Rules and Details of this NFL Football SuperContest: (August, 30th, 2019)
https://webpartners.co/wp-content/up…08-28-2019.pdf


The most important detail is entering before the start of the NFL season: September 5, 2019
MyBookie SuperContest registration period opens at 12pm ET on Thursday, June 20, 2019 and closes at 7:10pm ET on Monday, Sept. 9, 2019.
Here how it works:
Participants will make 5 ATS "Against the Spread" NFL picks each week. The contestant who correctly earns the most points for the entire NFL football season will be declared the champion and collect a Guaranteed $100,000 prize for first place!
Every dollar from every entry fee is going right back into the prize pool to make the MyBookie SuperContest the biggest online handicapping contest going. No proxies. No Vig. 100% of every dollar collect goes back to the players.
Players can enter starting today for just $100. They can pick five NFL games ATS against-the-spread every week to climb the leaderboard and become a winner.
The Guaranteed Prize Pool will be distributed as follows:
The MyBookie SuperContest also features four quarterly prizes of $12,500 each.
The quarterly prizes will be paid to the contestants that accumulate the most points during each quarter of the Pro Football Regular Season.
These quarters will be broken down as:
1st Quarter: Week 1 through Week 4
2nd Quarter: Week 5 through Week 8
3rd Quarter: Week 9 through Week 12
4th Quarter: Week 13 through Week 17
If the contest receives more than 2,250 entries, MyBookie.ag will add 100% of the money accrued from entry fees into the prize pool, adjusting the prize amounts and/or increasing the quantity of winners based on its sole judgement.
To become a member and promote this contest, please open an account here at http://webpartners.co/
Good Luck!