2019 NFL Week 17 Odds, Overview & Predictions and NFL Playoff Preview
Sunday, December 29, 2019 – Week 17 Final regular season games
L.A. Chargers at Kansas City
When: 1:00 PM ET
NFL Week 17 Odds: KC -7.5 vs LAC
Philip Rivers and the Chargers have been one of the biggest disappointments in the league this season after going 12-4 a year ago. The Bolts have lost two straight games and five of six. On the flip side of the coin, Patrick Mahomes and the Chiefs have hit their stride at just the right time, having won five straight. With a potential shot at the No. 2 seed still on the board, there's no way the Chiefs fail to win – or cover!
Pick: Kansas City -6.5
Odds to win the Superbowl Kansas City Chiefs     +$1,000 (10 to 1)
Miami at New England
When: 1:00 PM ET
NFL Week 17 Odds: Patriots NE -16 vs Mia
The Patriots could potentially lose the No. 2 seed in the AFC playoffs if they fall to Miami and Kansas City wins in Week 17. yeah…there's about as much chance of a snowball in hell of that happening. Tom Brady puts the Pats up big before sitting out the second half – and watching Miami come back to narrowly cover the chalk.
Pick: Miami +16
Odds to win the Superbowl 54: New England Patriots      +$300 (3 to 1)
New Orleans at Carolina
When: 1:00 PM ET
NFL Week 17 Odds: NO -13 at Car
The Panthers have lost seven straight games including their embarrassing 38-6 loss against Indianapolis on Sunday. Carolina will hit the offseason with a ton of questions mark at head coach and quarterback. Drew Brees and the Saints still have a shot to nab the top seed in the NFC playoffs with a win and a Packers or Seahawks loss. Brees plays a half to put the Saints up big and Teddy Bridgewater comes in to finish off the Panthers with the kill shot!
Pick: New Orleans -13
Chicago at Minnesota
When: 1:00 PM ET
NFL Week 17 Odds: Min -7 vs Chi
As if Chicago fans didn't already know the Bears blew it by selecting Mitch Trubisky over Patrick Mahomes and Deshaun Watson, Mahomes reminded the Chicago faithful by lighting up the Bears on Sunday night. Now, the offensively-challenged NFC North residents will see their 2019 campaign come to a meek finish as Minnesota's defense pounds Trubisky senseless from start to finish.
Pick: Minnesota -7
Atlanta at Tampa Bay
When: 1:00 PM ET
NFL Week 17 Odds: TB -1 vs Atl
The Falcons still have Matt Ryan and Julio Jones, but Tampa Bay has the better head coach (by far) in this matchup, not to mention they've been playing some rock-solid football despite falling to Houston by a field goal this past weekend. With a shot to finish at 8-8, the Bucs get it done in Year 1 of the Bruce Arians era.
Pick: Tampa Bay -1
Cleveland at Cincinnati
When: 1:00 PM ET
NFL Week 17 Odds: Cle -3 at Cin
Baker Mayfield and the Browns came up really small after entering the 2019 season with some, now clearly foolish playoff hopes, but at least Cleveland can cap off the one-and-done Freddie Kitchens era with a win over the lowly Bengals who are locked into the top spot in next year's NFL draft.
Pick: Cleveland -3
NY Jets at Buffalo
When: 1:00 PM ET
NFL Week 17 Odds: Buf -1 vs NYJ
Despite their Week 16 loss at New England and New York's impressive home win over the Steelers, Buffalo is the easy pick to take care of business by at least a touchdown while getting set for their upcoming playoff appearance.
Pick: Buffalo -1
Odds to win the Superbowl 54: Buffalo Bills         +$7,500 (75 to 1)
Green Bay at Detroit
When: 1:00 PM ET
NFL Week 17 Odds: GB -9.5 at Det
I'm expecting Green Bay to fall to Minnesota in Week 16 on Monday night, but Aaron Rodgers and the Pack will absolutely steamroll the lowly Lions in this Week 17divisional matchup to win the NFC North over the Vikings to secure the No. 3 seed in the NFC playoffs.
Pick: Green Bay -10.5
Odds to win the Superbowl 54: Green Bay Packers            +$1,200 (12 to 1)
Washington at Dallas
When: 1:00 PM ET
NFL Week 17 Odds: Dal -11.5 vs Wsh
Washington might have dropped three straight heading into week 17, but the Skis have actually played some solid football over their last five games (yeah, they finally fired Jay Gruden). I can't for the life of me, understand why Dallas is a double-digit favorite in this matchup, even though they could still win the NFC East with a victory in week 17 and a loss by Philly. Washington covers the chalk with room to spare against the desperate, but underachieving Cowboys.
Pick: Washington +11.5
Arizona at L.A. Rams
When: 4:25 PM ET
NFL Week 17 Odds: LAR -7.5 vs Ari
If Kyler Murray suits up for this season-ending NFC West divisional matchup, I'm going with Arizona to get it done after stunning Seattle this past weekend. The Rams probably want to close out their 2019 campaign on a positive note, but I'm not expecting to see Jared Goff, Todd Gurley or Aaron Donald much in what is now a meaningless matchup.
Pick: Arizona +7.5
Philadelphia at NY Giants
When: 1:00 PM ET
NFL Week 17 Odds: Phi -5.5 at NYG
Philadelphia can win the NFC East with a win here and that's exactly what I'm expecting, although I have a feeling Daniel Jones and the G-Men are going to make it interesting well into the fourth quarter. In the end, the Birds get it done because of their overall edge in talent and experience.
Pick: Philadelphia -5.5
Odds to win the Superbowl 54: Philadelphia Eagles           +$5,000 (50 to 1)
Tennessee at Houston
When: 1:00 PM ET
NFL Week 17 Odds: Ten -5.5 at Hou
The Titans could ensure a playoff berth with a win in this AFC South division battle, but Houston could potentially move up to No. 3 with a win and loss by Kansas City. I am stunned the Texans are home underdogs in this one, but I'll take the Texans and the points to easily cover.
Pick: Houston +5.5
Odds to win the Superbowl 54: Houston Texans +$4,500 (45 to 1)
Indianapolis at Jacksonville
When: 4:25 PM ET
NFL Week 17 Odds: Colts Ind -3 at Jax
The Colts rolled all over the reeling Panthers 38-6 on Sunday to snap a four-game skid and I believe Jacoby Brissett and company will get another easy win over against a Jacksonville team that has lost six of seven while getting held to 20 points or less in each contest. Minshew Mania comes to a humble halt in Week 17.
Pick: Indianapolis -3
Oakland at Denver
When: 4:25 PM ET
NFL Week 17 Odds: Den -4.5 vs Oak
The Raiders could finish at 8-8, but I don;t think it's going to happen, seeing as how their only win in the last five weeks came against a Chargers team that checked out weeks ago. Denver has won three of four and better yet, they may have found their answer at quarterback in solid-looking rookie signal-caller Drew Lock.
Pick: Denver -4.5
Pittsburgh at Baltimore
When: 1:00 PM ET
NFL Week 17 Odds: Bal -2.5 vs Pit
Pittsburgh has overachieved all season long, but their week 16 loss to the lowly Jets shows they just don't have enough horses in the stable to compete this season. Baltimore's Lamar Jackson may not suit up for this one with the top seed in the AFC playoffs on lock-down, but the ravens are by far, the better team and they'll take care of business to cap off their phenomenal 2019 regular season.
Pick: Baltimore -2.5
Current Super Bowl 54 Odds: Baltimore Ravens +$500 (5 to 1)
San Francisco at Seattle
When: 4:25 PM ET
NFL Week 17 Odds: SF -3 EV at Sea
Seattle hasn't looked good at all in losing two of their last three, but San Francisco has dropped two of their last four games and three of their last seven. Despite being home dogs in this one, I'm thinking Russell Wilson and company are going to show up with a outstanding effort to get the hue upset as a field goal home underdog.
Pick: Seattle +3
Current Super Bowl 54 Odds: Seattle Seahawks   +$1,600 (16 to 1)
Odds to win the Superbowl 54: San Francisco 49ers          +$700 (7 to 1)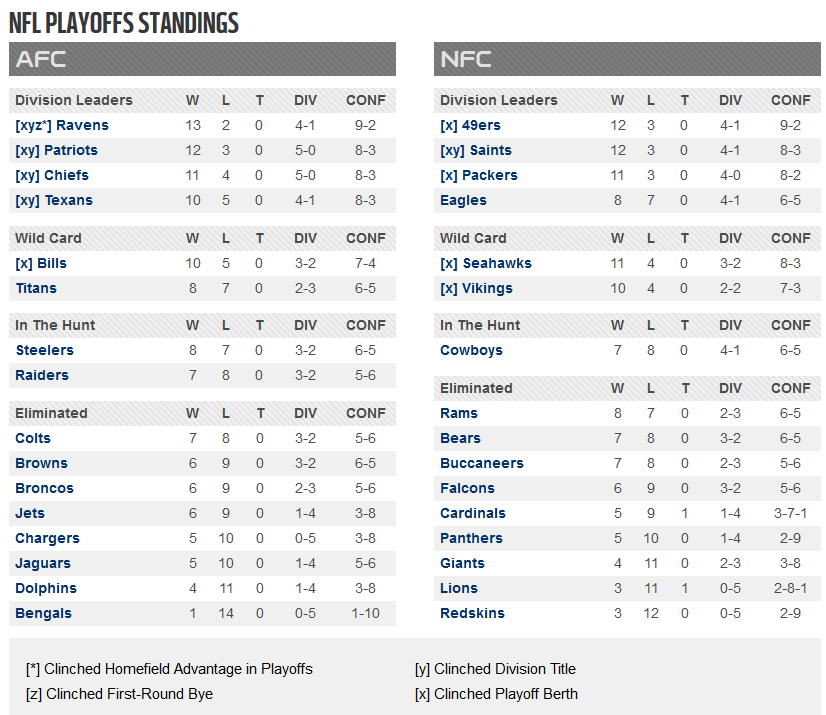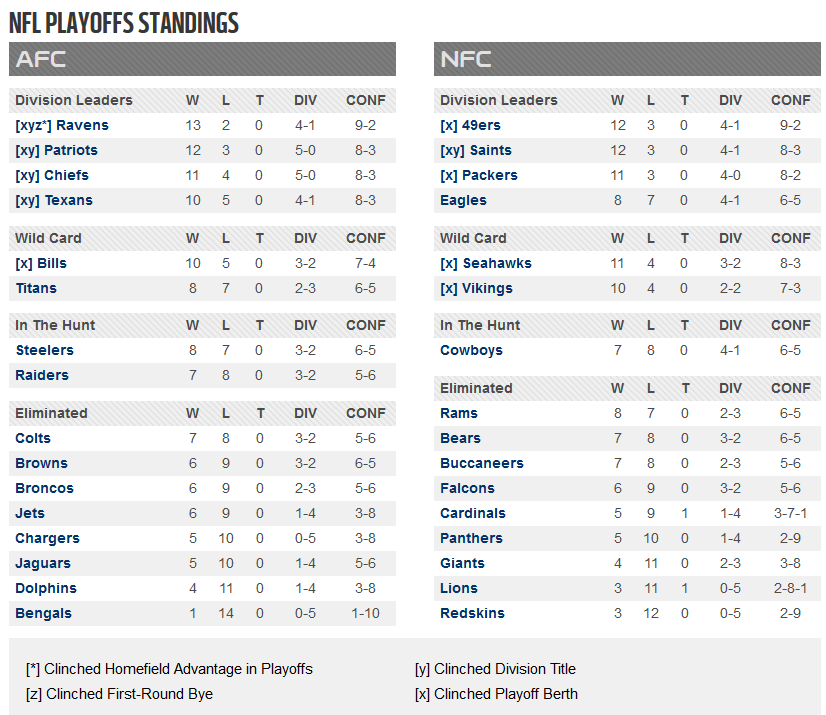 NFL Playoff Preview 2019-20 Super Bowl 54 Odds (Payout Per $100 Bet.)
New England Patriots       +$300 (3 to 1)
Baltimore Ravens               +$500 (5 to 1)
San Francisco 49ers           +$700 (7 to 1)
Kansas City Chiefs              +$1,000 (10 to 1)
Green Bay Packers              +$1,200 (12 to 1)
Minnesota Vikings             +$1,600 (16 to 1)
Seattle Seahawks               +$1,600 (16 to 1)
Houston Texans                 +$4,500 (45 to 1)
Philadelphia Eagles           +$5,000 (50 to 1)
Buffalo Bills                         +$7,500 (75 to 1)


Super Bowl 54 Bracket Printable Bracket
https://mybookie.ag/brackets/nfl-playoffs/2020-superbowl-printable-bracket/