Title Bouts, Ranked Showdowns, Rivalry Games, & More!!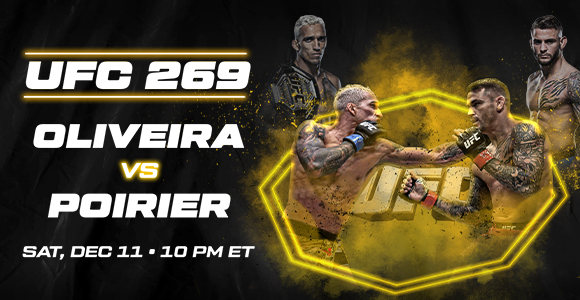 Epic Title Fights + Sean O'Malley Odds Boost!
Get pumped for the championship bouts between Charles Oliveira and Dustin Poirier and Amanda Nunes and Julianna Peña with an Odds Boost! We're boosting the odds on Sean O'Malley to win by KO from (+100) to (+150)! A knockout specialist with 10 KOs to his name, betting on the red-hot O'Malley to KO Raulian Paiva is basically a lock. Cash in now!
UFC 269 – December 11th: • Charles Oliveira (+135) vs. Dustin Poirier (-165)
• Amanda Nunes (-855) vs. Julianna Peña (+530)
Army vs. Navy First, Epic Bowl Games Later!
If Bowl games are the main course, Army vs. Navy is the appetizer. Army has been hot, winning four in a row and outscoring opponents 148-57. Their rushing attack averages 300+ yards per game, and they're 4-1 versus their military rivals since 2016. Bet Army with confidence!
High-Ranking Schools Face-Off
No. 6 Villanova may not average as many points as No. 2 Baylor, but they're top-10 in the country when it comes to scoring from the perimeter. Bet the over, win cash. It's that simple.
National Championship – Odds to Win: • Villanova (+1875)
• Baylor (+2900)
We Make Winning Easy!
Stay in the action by taking advantage of our 25% Reload Bonus up to $250 every time you fund your account!
These Players Took on the House and Won!
Tyone K. won $2,438 playing Tiger's Claw
• Levon Q. won $2,006 playing Charms & Clovers
• Raymond M. won $1,827 playing The Forbidden Tomb
Enjoy an Unlimited Amount of Referral Bonuses!
Share your invite link with your friends via email, social media, or SMS and we'll give you a 100% Bonus when they make their first deposit. Bonuses are valid up to $100.
Xbet as the world's leading online sports betting and gambling website through the fundamental three R's: Reliability, Reputation and Real fast payouts to accomplish this goal, a new website was needed; the rebuild had to be a re-imagining of what the perfect gaming website would need to offer all players from the first-time bettor to the experienced professional.