Kentucky Derby Odds – Sat, May 1st – Derby Day
BUSR is the best place you can bet on the Kentucky Derby. You'll get great future odds with amazing payouts on the leading Kentucky Oaks and Derby horses and even the leading Jockeys and Trainers. Bet on the margin of victory, head-to-head matchups, the winning time vs Secretariat's world record, Triple Crown contention and more.
The 147th Kentucky Derby runs on May 1st, 2021.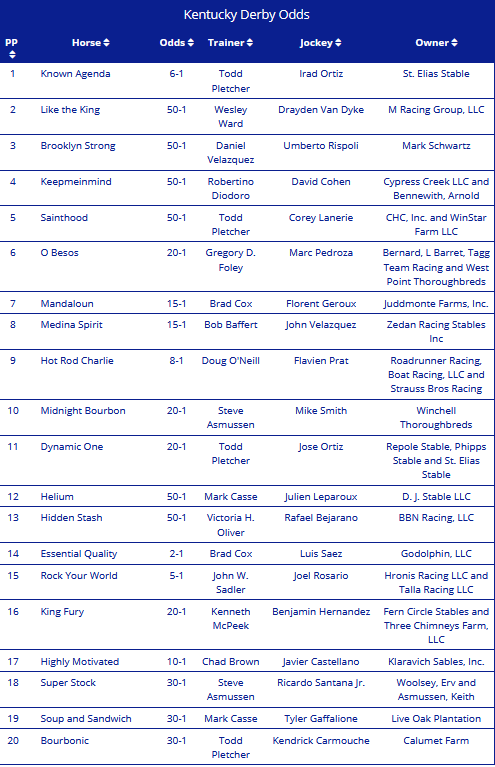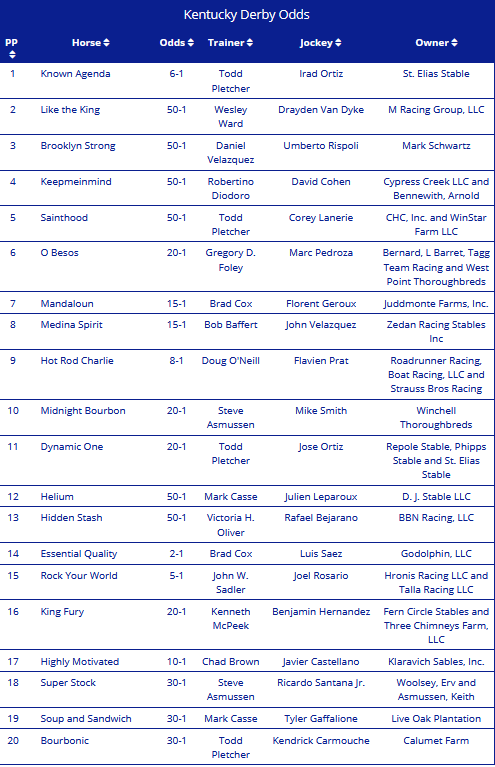 What you need to know for the Derby:

1. What time is post time for the Kentucky Derby?
The 2021 Kentucky Derby post time is set for 6:50 p.m. on May 1, 2021
2. Who was the fastest horse in Kentucky Derby history?

Secretariat, 1973.

The true king of thoroughbred horse racing gets another jewel on his illustrious crown by holding the record for the fastest Derby time ever. Secretariat clocked in at 1:59.40 at the 1973 Kentucky Derby, an all-time record for the race and for the 1 1/4 mile track at Churchill Downs
3. How to make a Mint julep
Mint julep is a mixed cocktail, consisting primarily of bourbon, sugar, water, crushed or shaved ice, and fresh mint.

As a Kentucky bourbon-based cocktail, it is associated with the American South and and the Kentucky Derby in particular.

Main alcohol: Bourbon
Ingredients: 1 teaspoon Powdered sugar, 2 oz. Bourbon whiskey, 2 teaspoons Water, 4 Mint leaves

Preparation: In a highball glass gently muddle the mint, sugar and water.
Fill the glass with cracked ice, add Bourbon and stir well until the glass is well frosted. Garnish with a mint sprig.

4. Which Horses are racing and who to watch for?

BROOKLYN STRONG – Mark Schwartz's Brooklyn Strong Kentucky Derby bound after working five furlongs in 1:00.92 at Parx Monday.
Brooklyn Strong, who ended 2020 by winning the Remsen Stakes (G2) at Aqueduct, will be making only his second start of 2021. He was most recently fifth in the Wood Memorial April 3 in his debut.
ESSENTIAL QUALITY and MANDALOUN – Trainer Brad Cox's Derby-duo of Godolphin's Essential Quality and Juddmonte Farm's Mandaloun had a spirited jog Monday morning at Churchill Downs.
"Both horses came out of their Saturday works great and we're just doing our normal routine leading into race day," Cox said. "They'll both gallop Tuesday and we'll just make sure they're happy until Derby Day."
HELIUM, SOUP AND SANDWICH – D J Stable's Helium and Live Oak Plantation's homebred Soup and Sandwich both schooled at the starting gate and galloped 1 ½ miles over the track Monday morning, with the former looking particularly strong for trainer Mark Casse.
"That's who Helium is; he likes to train and he's fresh and on the muscle," Carroll said. "Soup and Sandwich, you really only see that from him when he breezes. But they are both doing great, they schooled beautifully at the gate, and now we're just hopeful we'll get some luck at the draw (Tuesday)."
HIGHLY MOTIVATED – Klaravich Stables' Highly Motivated went back to the track for the first time since his final Derby workout Saturday morning for trainer Chad Brown, jogging under exercise rider Peter Roman.
"I gave him a jog all the way around with the pony, just to see how he was moving and stretching himself out," Brown said. "I'm really happy with how he looked and he's going to go back to galloping tomorrow. I'll do a little paddock schooling one of the days and we'll be in good shape."
HOT ROD CHARLIE – The Louisiana Derby (G2) winner and racing millionaire Hot Rod Charlie got his first feel for the Churchill Downs racing strip Monday morning.
Trainer Doug O'Neill, already a two-time Kentucky Derby winner (I'll Have Another in 2012 and Nyquist in 2016) was a most-interested observer as his charge went through his paces.
O'Neill indicated that Hot Rod Charlie would jog again Tuesday, then gallop up to Saturday's $3 million Run for the Roses.
Kentucky Oaks – Fri, April 30th – Oaks Day
Run-on the first Friday in May (usually), this year they've choosen April 30th, 2021 for the Kentucky Oaks. The Oaks is a Grade I race for three-year-old fillies with a $1 million purse. Won in recent years by such superstars as Rachel Alexandra (2009), Untapable (2014), and Cathryn Sophia (2016), this year's event will feature some incredible horses.