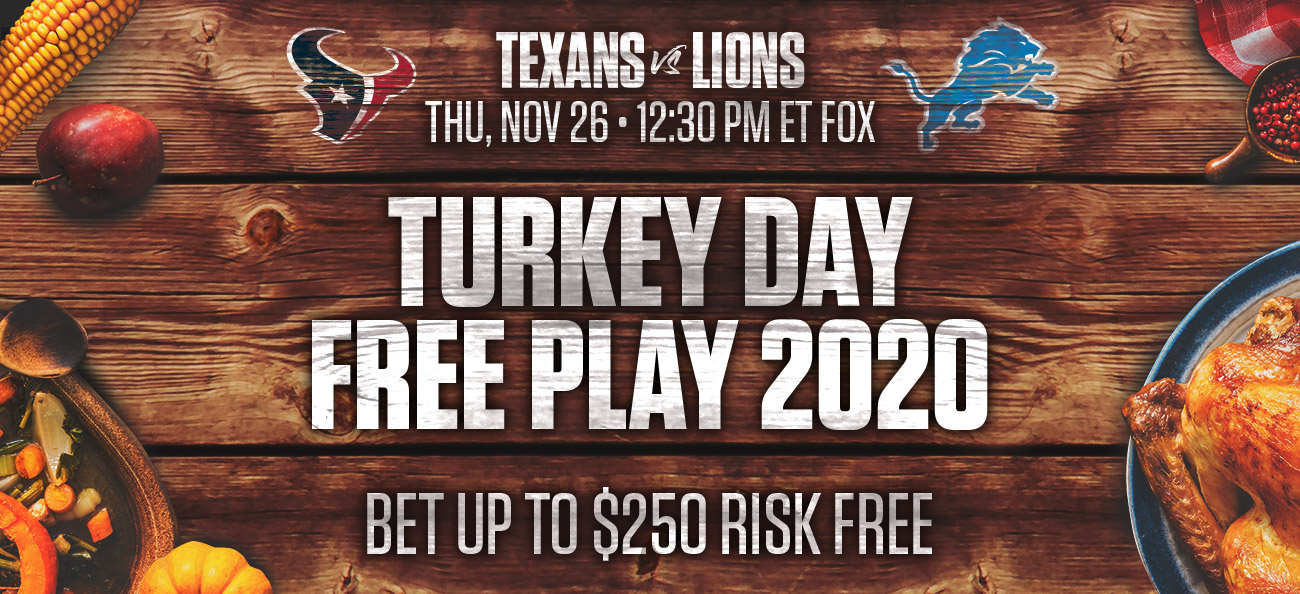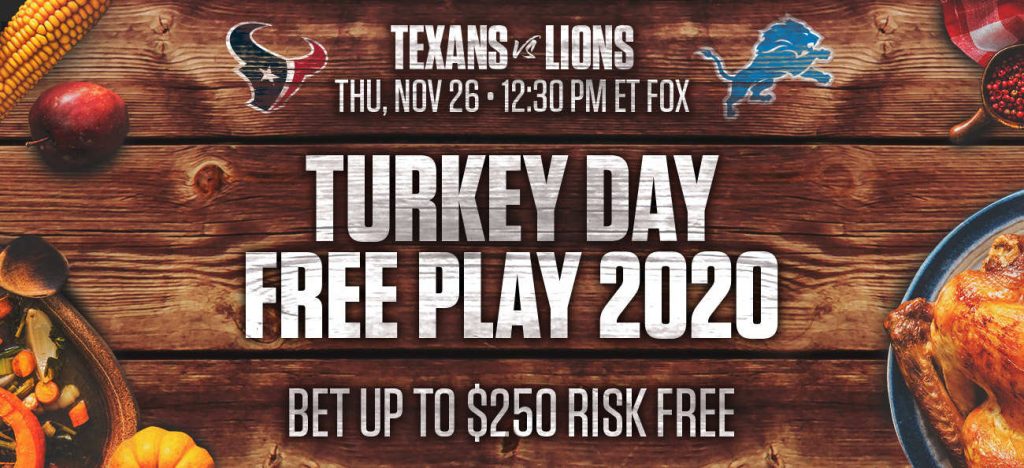 HOW TO CLAIM YOUR RISK FREE BET
Bet Texans @ Lions Full Game Spread – November 26th, 12:30pm EST.

Your First Cash Bet Qualifies. Straight wagers only

Winning bets win, losing bets will be credited back after the game ending.

A maximum of $250 will be refunded as cash

1x Rollover on refunded bets
Additional Information:
The Third annual Turkey Day Free Play is a celebration of our favorite NFL day of the year. To start the day off right we are offering up to $250 Risk Free on your first cash wager against the full game spread on the Texans at Lions game November 26th, at 12:30 pm EST

What is a spread bet?
On Thanksgiving Day it's the delicious food on the table. It's also known as the line type is mostly used in Football for the amount of points it takes away or handicaps from the favorite (labeled with a "-" sign) and/or it gives points to the underdog (labeled with a "+" sign), by doing this the perception is both teams are starting the game with equal advantage to win. When betting on point spreads the main objective is that your team covers the spread, not that your team wins the game.

What is a Risk Free Bet?
A Bet You Can't Lose. Your first wager up to $250 against the full game spread on the Texans @ Lions game either wins or is returned to you as cash with a 1x Rollover.

Example:
Bet $250 on the Texans ATS.
Texans cover. You win.
Texans don't cover. You get $250 credited to your account in cash for you to bet on anything else.

What is 1x Rollover?
If you lose your bet and it is credited as cash you will need to bet that amount 1x before you can withdraw.
Important Terms and Conditions – read here