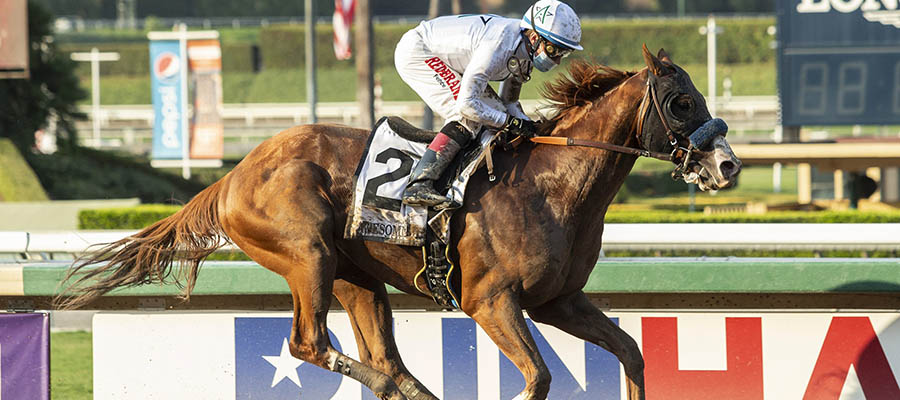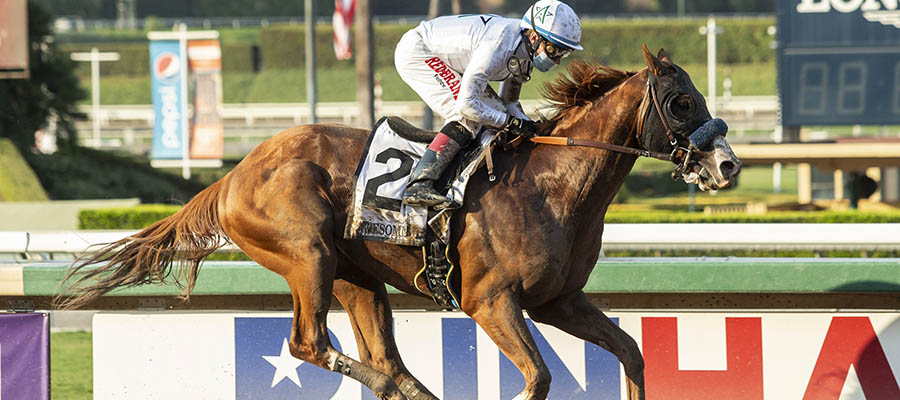 2020 Breeders' Cup Classic
When: November 7, 2020
Where: Keeneland Racecourse, Lexington, KY
Weather: Sunny
2020 Breeders' Cup Classic Odds
Improbable +250
Tiz the Law +275
Maximum Security +400
Authentic +550
Tom's d'Etat +700
By My Standards +2500
Global Campaign +2500
Tacitus +3300
Higher Power +3300
Title Ready +4000
Distance: 1-1/4 Miles
Best running style: May the best horse win!
Winning tip: Bet lightly-campaigned older horses instead of the 3-year-olds.
With so much importance to this year's Classic, it is only fitting the race has come up strong, featuring several standout competitors in a wide open affair that will be a memorable betting race. Among the headliners are top 3-year-olds #9 Authentic and #2 Tiz the Law, and the country's best older horses, #8 Improbable, #10 Maximum Security, and #4 Toms d'Etat. Any of them could lock up divisional titles, as well as a Horse of the Year with a win.
Maximum Security has been the best horse in the country for two years, and will cap off his year with a resounding win that, for once, will not be taken away from him. Appears to love 1 1/4 miles, has loads of speed, and can carry that speed the distance for Bob Baffert. Tom's d'Etat offers the best value of the key players in the Classic, mostly because his loss last out in the Whitney came after he stumbled out of the gate and lost all chance. He'll be tough against these based on his best efforts if able to handle 1 1/4 miles. Tiz the Law has been a special 3-year-old, likes 1 1/4 miles, and will benefit from more time between races than he had when he ran second in the Kentucky Derby.
Pace Analysis:
The pace should be quick because Authentic, Global Campaign, Maximum Security and Higher Power all like to run near the front. Authentic should break on top with Global Campaign and Maximum Security about a length to a length and a half off. Tacitus and Tiz Law should be 2 to 4 lengths off while Title Ready, Tom's d'Etat, and By My Standards will be 4 to 6 lengths off the pace.
Win: Authentic +550
The horse that beat Authentic in the Preakness, filly Swiss Skydiver, runs in the BC Distaff.
She had a big chance to upset the top choice in this race. But since she isn't in it, backing Authentic to turn away all challengers makes the most sense.
Even though the Kentucky Derby winner will face pressure upfront, he seems to thrive when he knows another horse wants to take his lunch. That's the way some of the best runners in horse racing history, think Tiz now and Affirmed, prefer it.
Authentic fights to the wire. In a race like the 2020 Breeders' Cup Classic, it makes sense to back the equine that we know will get the lead and that we also know won't give up the lead without a fight.
Place: Global Campaign +2500
Global Campaign took the lead in the Grade 1 Woodward and never looked back. That race, at 1 ¼ miles, proves that the son of Curlin can get the distance. He's lightly raced for a 4-year-old, having run just 9 times, and has the best shot of overtaking Authentic.
Jockey Javier Castellano will stay as close as possible to Authentic without decimating his horse's chances for the win. That should put this talented, overlooked runner, into a good position to get into the exacta.
Third (show): Maximum Security +400
Maximum Security is a fantastic racehorse. There's always been a question of whether or not he wanted 1 ¼ miles, though. Not only that, but Baffert trains both Authentic and Maximum Security. If Authentic guns it, and Authentic only knows how to run one way, jockey Luis Saez aboard Maximum might lay off at least a length.
That could be the horse's undoing, which proves how difficult it is to beat Authentic. We know the Derby winner will get the lead on the front end. We also know he won't give up the lead without a fight.
Do jockeys aboard the other contenders push Authentic early, or do they lay off and hope they can get past him ala Swiss Skydiver in the Preakness? Your answer to that questions could determine who gets your money in the 2020 Breeders' Cup Classic!