Let the Madness Begin!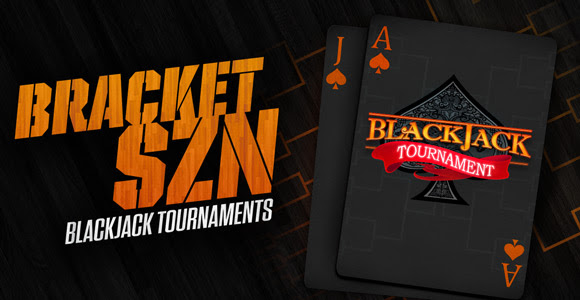 Turn Madness Into Cash!
Win big at the Blackjack Table throughout the month in four crazy tournaments offering $25K+ in Cash Prizes and 15+ Crazy Payouts spots!
Upcoming Tournaments:
· March 15th-20th: $5K March Madness Tournament
Top prize: $1,000.
Top 300 players win cash prizes.
Four Crazy Payouts spots of $250.
· March 22nd-27th: $8K March Madness Tournament
Top prize: $1,250.
Top 400 players win cash prizes.
Four Crazy Payouts spots of $300.
· March 29th-April 3rd: $10K March Madness Tournament
Top prize: $1,500.
Top 500 players win cash prizes.
Five Crazy Payouts spots of $350.
· April 4th: FREE $1K Madness Flash Crazy Payouts Tournament
Free $1K Tournaments every four hours
Top prize per tournament: $150
300 Winners (Top 50 per tournament)
Three Crazy Payouts spots of $25 on every tournament
All tournaments have unlimited $5 Rebuys.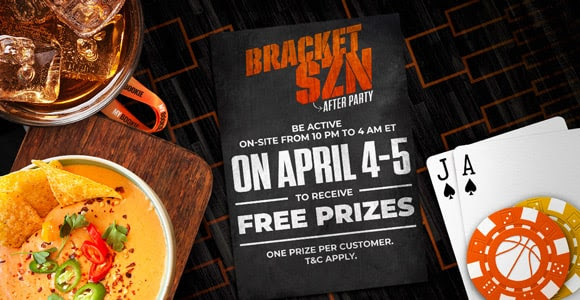 Who Wants to Party?
We're hooking you up with Free Chips & Free Spins! Be active on-site between Monday, April 4th at 10:00 PM ET and Tuesday, April 5th at 4:00 AM ET to take part in our Bracket SZN After Party. When you see a Bracket SZN After Party pop-up, click "Claim Now".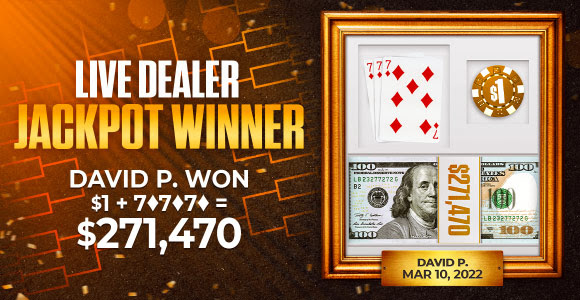 You're One-Click Away From a Life-Changing Payday!
Make a deposit between now and March 17th to receive a Free Entry to our one-of-a-kind MyBracket Contest. Win Bitcoin, an NFT: Doodle #9432, and $100K Last week, one lucky player walked away with $271K! In the past year, more than $1 million in Jackpot prizes have been won. Get in on the action today, and the next winner could be you!
Here's How:
Play at one of our Live Casino Blackjack Tables.
Place a $1 Side Bet.
Hit Three Diamond 7s and win!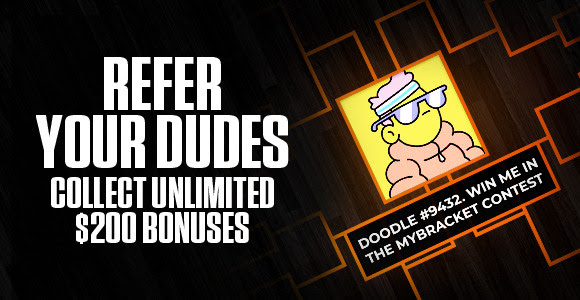 Get Your Friends in on the Madness, and We'll Pay You!
Receive a 200% Bonus up to $200 every time someone you refer deposits for the first time! Unlimited referrals! Unlimited bonuses! Unlimited ways to win in the craziest month of the year!
About MyBookie:
Online gaming pioneers created MyBookie in 2014, vowing to improve services where so many other brands failed.
MyBookie's top priorities have always been the easiest deposits, the fastest payouts and the absolute best customer service. Since launching, MyBookie has delivered on its promise of excellent service as well as easy, fast deposits and payouts. That's not to mention providing an always-expanding selection of sports odds for players at all levels.