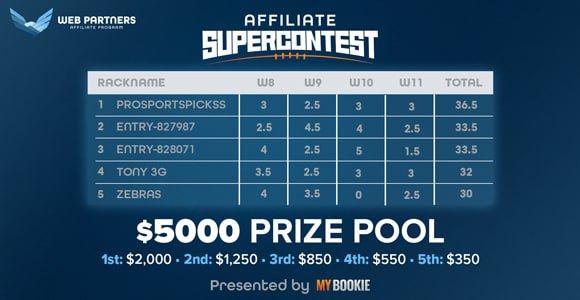 WEEK 11 UPDATE
After Week 11 the current leader is still ProSportspickss with 36.5 pts.

ENTRY-828071 and ENTRY-827987 let us know who you are and good luck with the rest of the chase. Welcome Tony 3G into a tie for 4th spot after 11 weeks.

Where you can update your entry name. >> Click on the pencil to edit your Entry name.

For more details on how to enter please read this page:
https://www.webpartners.co/webpartners-affiliate-supercontest-is-open/
WebPartners SuperContest Prizepool is for $5000
1st Place – $2000
2nd Place $1250
3rd Place $850
4th Place $550
5th Pace $350
Quarterly $100 Prizes can still be won in each Quarter ie. (Weeks 1-4), (5-8), (9-12), (13-16).

Good luck everyone!