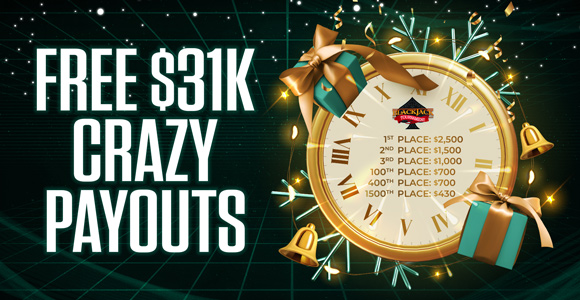 DAY 7: FREE $31K CRAZY PAYOUTS TOURNAMENT!
From now until Monday, January 2nd, 2023, compete for the top prize of $2,500 in our Free $31K New Year's Crazy Payouts Blackjack Tournament!
With 1,700 winners, six Crazy Payout Spots ranging from $430 to $700, and unlimited $5 rebuys, it's the way ultimate way to ring in the New Year!
Continue to unwrap great gifts from now until January 1st!
Remaining Gifts:
Day 8 – FREE SPINS – December 28th
Day 9 – FREE CHIP – December 29th
Day 10 – CASINO WEEKEND RELOAD – December 30th
Day 11 – CFB FREE PLAY – December 31st
Day 12 – NFL FREE PLAY – January 1st
Termos e Condições: One Free Entry per customer. The tournament runs from Tuesday, December 27th, 2022 at 12:00 AM ET, to Monday, January 2nd, 2023 at 11:59 PM ET. Players receive $1,000 in tournament casino chips (TOR). Tournament casino chips have no cash value. Unlimited $5 rebuys. Prizes are credited as casino bonus cash with a twenty-time (20x) rollover. In order to receive a prize, the player must have a remaining tournament balance (TOR). In a tie situation, if players have the same score, the player that posted the score last is higher up in the leaderboard. In order to qualify for 12 Days of Giveaways promotions, a previous deposit is required. Promotions are available to all players in good standing with the house and are redeemable one time (1x) per lifetime. Additional Terms and Conditions apply. See website for full details.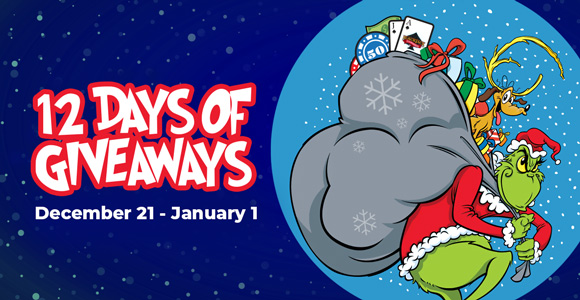 This Holiday SZN, It Pays to Play!
From now until Monday, December 26th, 2022, compete for the top prize of $2,000 in our Free $25K Xmas Crazy Payouts Tournament! With 1,500 winners and four Crazy Payout Spots of $250, it's the best way to celebrate the holidays!
And keep an eye out for our Free $31K New Year's Crazy Payouts Tournament next week!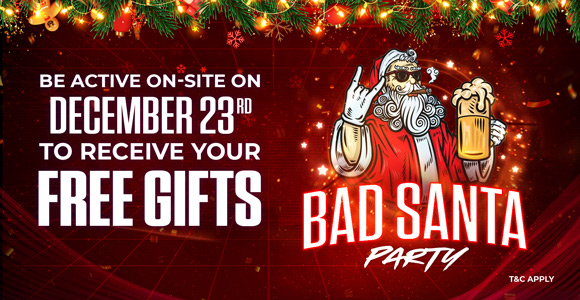 Day 3: This Is One Christmas Party You Don't Want to Miss!
On Friday, December 23rd, play in the Casino for your chance to redeem up to 3 FREE GIFTS! Log in between 12:00 AM ET and 11:59 PM ET to participate in the Bad Santa Party, and dash away with 1 gift every 8 hours.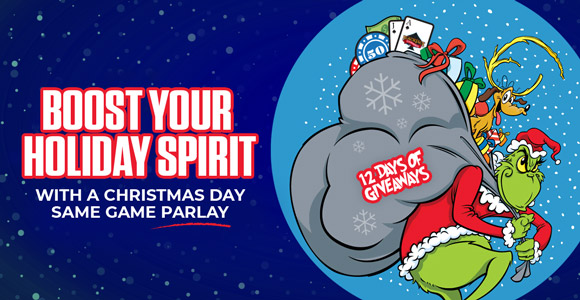 Day 5: Get Boosted, Win CASH!
On Sunday, December 25th, 2022, we're boosting the odds on NFL and NBA parlays!
More details found on site on this Special Christmas Day!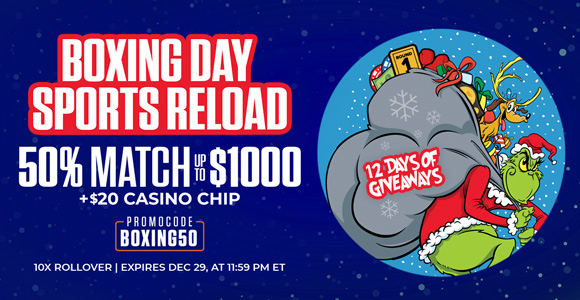 Day 6: When Christmas Ends, This Epic Reload Begins!
Receive a 50% Match Bonus up to $1,000 + $20 Casino Chip between December 26th, 2022, at 12:00 AM ET and December 29th, 2022, at 11:59 PM ET. Offer is 1x use only. Minimum deposit: $100. Claim promo code BOXING50 in the Cashier.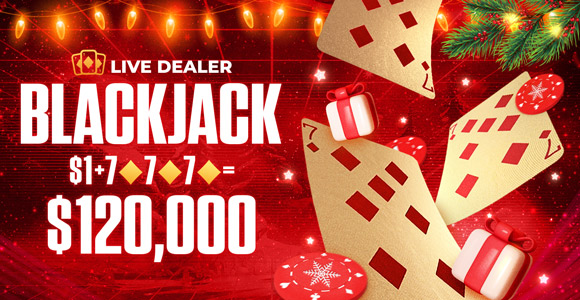 TURN A $1 SIDE BET INTO $120,000!
It's our biggest Live Dealer Jackpot in months! The odds of winning this epic prize increase with every dollar added to the pot. That means your best chance to win $120K is right now!
Jackpots of $305K, $288K, and $284K have been hit in the past year alone. Will you be next?
How To Play:
Login to your account and select "Live Casino" in the Casino Section
Select a Live Dealer Blackjack Table that says "Jackpot 777"
Place a $1 Side Bet
Hit Three Diamond 7s and win the Jackpot!
MyBookie Online Casino & Sportsbook
MyBookie casino has sourced premium quality games from the best game suppliers on the market. Games that engage customers with a quality online gambling experience, in which people can make their bets from the comfort of home. Las Vegas Style games like Blackjack, Roulette, Craps and Mr. Bond's guilty pleasure – Baccarat, right at your fingertips.

A total Casino Experience – So, what are you waiting for? Get in on the action today at MyBookie.