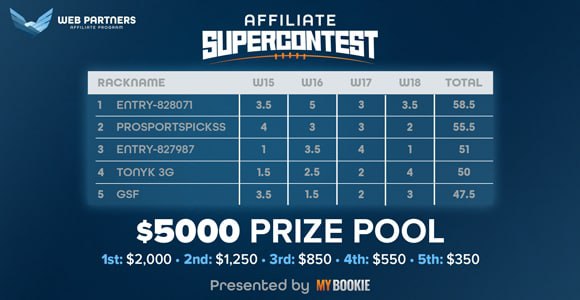 Congratulations to all the participants and winners!
After 18 weeks of hard work, remembering to login and make our picks. We are finally able to wrap up this incredibly fun season long 'WebPartners Affiliate Supercontest'. Some of us slept in too few many times and forgot to get our picks in before Sunday. That's ok, it happens to some of us more than others. Nothing more embarrassing than making your 5 locks and still resulting in the same goose egg as someone who never entered any picks at all. (me 3 weeks in a row)

In the final few weeks down the stretch we had a race from about 15 accounts closing in on prize down from the 89 participants who started week 1.

Season long leader ProSportspickss AKA (http://professionalsportspicks.com) finished with (55.5) pts which was good enough for 2nd place. Mr. hot pants ENTRY-828071 finished with (58.5) pts to claim the top prize and a cool $2000. Congratulations SBC999 AKA (https://www.betonit.org) on a great run here!

3rd place finisher ENTRY-827987 (51) pts was a mystery contestant who never updated his Entry name. Mr. LowKey is none other Robert AKA (https://xsportsbook.com/), I guess living in Vegas really does rub off a few winners for you.

Finishing in 4th spot with 50 pts was TonyK 3G AKA (VegasTopDogs.com). Tony also from NV has been making sharp picks, breaking hearts and scooping contest prizes before you 'youts' were even born.

Rounding out the 5th spot is Scotty from (https://gamblingsitefinder.com), Scotty is Mr. Fantasy Football Contest. I think he enters 100's every year focuses on quantity not quality. The Bingo halls love Scotty 100 card approach.

All kidding aside, thank you for participating we'll see you at the next one.

Prizes have been awarded to your affiliate accounts, to be paid out this next pay period. Any questions please let us know.

Final WebPartners SuperContest Prizepool $5000
| | | | |
| --- | --- | --- | --- |
| entry_name | ranked_position | points | Prize AMT |
| Entry-828071 | 1 | 58.5 | 1st Place $2000 |
| ProSportsPickss | 2 | 55.5 | 2nd Place $1250 |
| Entry-827987 | 3 | 51 | 3rd Place $850 |
| TonyK 3G | 4 | 50 | 4th Place $550 |
| GSF | 5 | 47.5 | 5th Pace $350 |

Be sure to look out for the next Mybookie contest, likely we'll do something again for the March Madness NCAAB bracket contest.
MyBookie Online Casino & Sportsbook
Why Choose MyBookie Online Sportsbook?
If you are new to online sports betting or a seasoned pro, we strive to create the absolute best online betting experience for all of our customers. Our name, MyBookie, says it all. Checkout all the Player Value Features listed here NFL playoff SNZ page.
MyBookie casino has premium quality games from the best game suppliers on the market. Games that engage customers with quality online gambling experience, in the comfort of their own home. Las Vegas Style games like Blackjack, Roulette, Craps and Mr. Bond's guilty pleasure – Baccarat, right at your fingertips.

So, what are you waiting for? Get in on the action today at MyBookie.