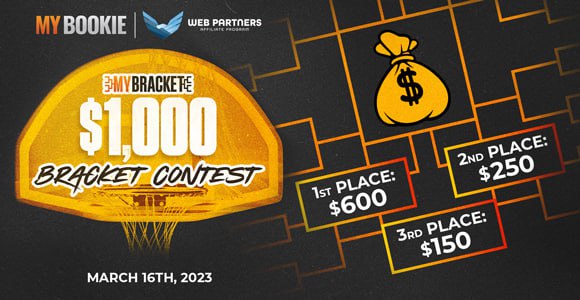 Results are in!
The WebPartner Mybracket NCAA Basketball Tournament Contest has now finished.

Not many of us had these final 4 teams in their bracket. Congratulations to " Bracket b3dr4nwzi5gn6fa " for winning first place. Please identify your bracket number below to collect your prize. Please email us at contests@webpartners.co with your MB account number and screen shot of your bracket name. Credit will be added to your affiliate balance.
We had 22 entries this year playing for $1,000 in cash prizes.

Prizes:
First place wins $600 cash
Second place earns $250
Third wins $150
Worst bracket will take $100
$1000 MYAFFILIATE BRACKET CONTEST 2023
| | | | | | |
| --- | --- | --- | --- | --- | --- |
| Rank | Name | Score | Tiebreaker | Lugar | Prizes |
| 1 | Bracket b3dr4nwzi5gn6fa | 121 | 147 | 1st Place | $600 |
| 2 | Bracket fmtfluq4yfzgfa0 | 116 | 138 | 2nd Place | $250 |
| 3 | Bracket ckvjh51p1etif0t | 106 | 150 | 3rd Place | $100 |
| 4 | Bracket g4f35dd74zb41wo | 71 | 135 | | |
| 5 | Bracket un05dl8g6qegafo | 63 | 73 | | |
| 6 | Bracket 8ulavp4ni4gank4 | 61 | 144 | | |
| 7 | Bracket 66siyscdgcsc162 | 59 | 166 | | |
| 8 | Bracket semzevlbwec6gk2 | 50 | 146 | | |
| 9 | Bracket khphc0iv84000xy | 46 | 146 | | |
| 10 | Bracket srm1i8ei3d03f0f | 45 | 125 | | |
| 21 | Bracket 36fltx6h4kz211h | 25 | 134 | Worst Score | $100 |