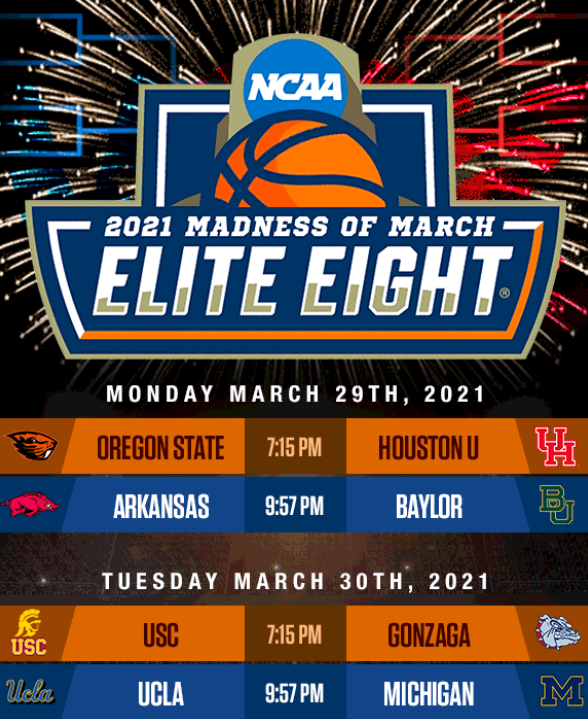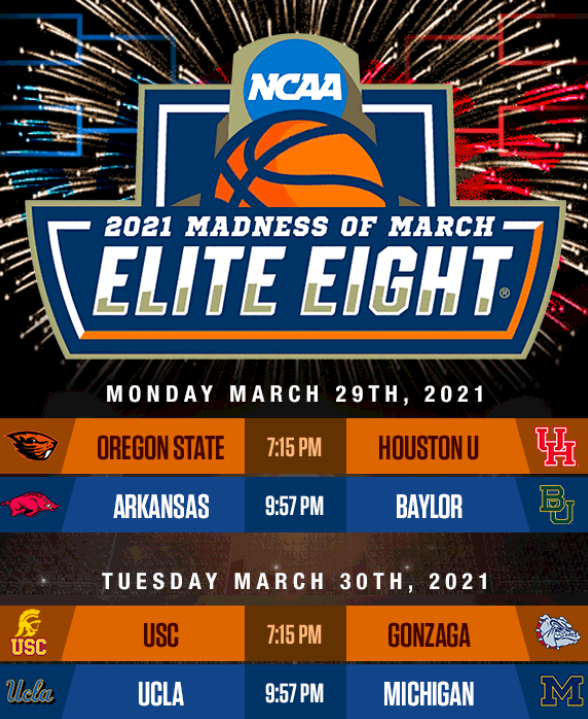 2021 NCAA Basketball Expert Analysis
Oregon State vs #2 Houston NCAA Tournament Elite Eight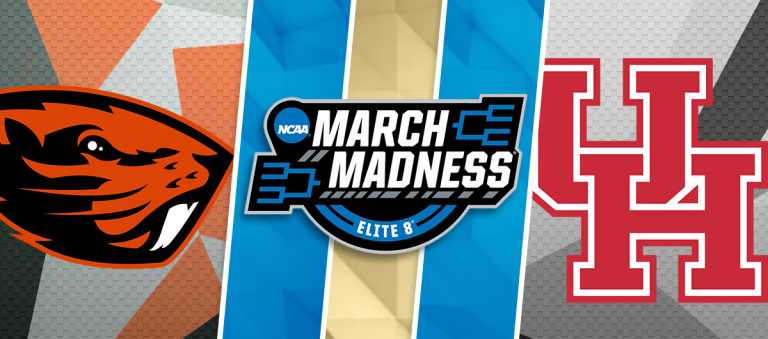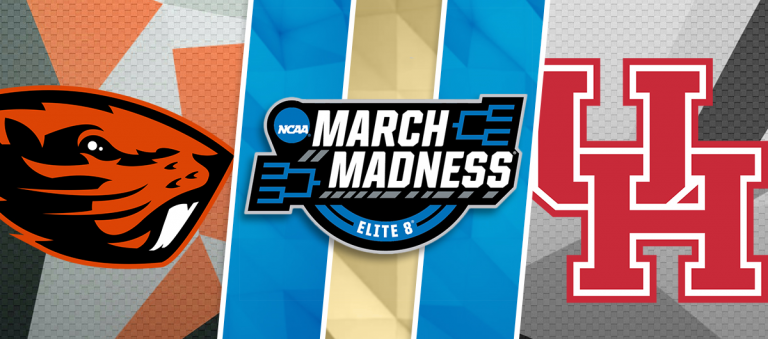 Last Meeting
Oregon State leads the all-time series 2-0. March 11, 1966: Oregon State 63, Houston 60 (NCAA West Regional in Los Angeles, Calif.); March 18, 2009: Oregon State 49, Houston 45 (CBI in Corvallis, Ore.)
Why Bet on Oregon State?
Oregon State (20-12) upset No. 8 Loyola (Chicago) 65-58 in the Sweet 16. Star guard Ethan Thompson had 22 points, including a pair of clinching foul shots with 35 seconds left.
Oregon State built on Warith Alatishe's buzzer-beating bucket to end the first half by getting some shots to go in the second. Thompson did most of the damage, hitting an early jumper, beating the shot clock with another fadeaway, then catching a Hail Mary heave to beat a full-court press and give the Beavers a 37-24 lead with 12 minutes to go. The game was never much in doubt after that.
Oregon State has equaled its most NCAA Tournament wins, tying the 1963 Final Four Team. In the three NCAA Tournament games, the Beavers are shooting 43.7% (69-for-158) from the field and limiting its opponent to 31.3% (57-for-182). OSU is shooting 41.7% (50-for-1120) from beyond the arc and limiting its opponent to 24.6% (35-for-142) from deep during the current six-game winning streak.
Oregon State has five wins against Top 25 teams, its most in a season since the 1975-76 team also won five.

Why Bet on Houston?
The Cougars (27-3) easily handled No. 11 Syracuse 62-46 in the Sweet 16. UH came in holding opponents to a national-low 37.3% shooting, and then harassed Syracuse into just 28% (14 for 50), including a 5-for-23 performance from 3-point range. Allowing only 46 points and that 28.0 field goal percentage, the Houston defense set school records in NCAA Tournament play. Houston's offensive effort against Syracuse's 2-3 zone was by no means sterling, but the Cougars did enough to advance.
Senior forward Justin Gorham scored 13 points on 4-of-6 shooting and grabbed a game-high 10 rebounds, including four offensive boards, for his team-leading eighth double-double of the season for the second-seeded Cougars, who pushed through to their first trip to a regional final in 37 years.
Junior All-American guard Quentin Grimes led all players with 14 points and four 3-pointers, while sophomore guard Marcus Sasser totaled 12 points with a game-high four steals. DeJon Jarreau finished with nine points, eight rebounds and eight assists while leading the defensive effort that kept Boeheim in check.
Houston is the only team in the nation to rank Top 8 leaders in both offensive and defensive efficiencies. The Cougars stand at No. 8 offensively (118.5) and No. 6 defensively (88.2). UH leads the nation with a 37.0 field goal percentage defense mark, ranks second with 57.5 points allowed per game and a +19.5 scoring margin and stands third with 14.3 offensive rebounds per game, and third in 3-point field goal percentage defense (28.0).

Game Trends
Beavers are 6-0 ATS in their last 6 neutral site games.
Beavers are 13-3-1 ATS in their last 17 games vs. a team with a winning straight up record.
Beavers are 20-6-1 ATS in their last 27 games overall.
Beavers are 16-5 ATS in their last 21 games as an underdog.
Cougars are 3-0-1 ATS in their last 4 Monday games.
Cougars are 9-2 ATS in their last 11 neutral site games as a favorite.
Cougars are 4-1 ATS in their last 5 NCAA Tournament games as a favorite.
#3 Arkansas vs #1 Baylor Tournament Elite Eight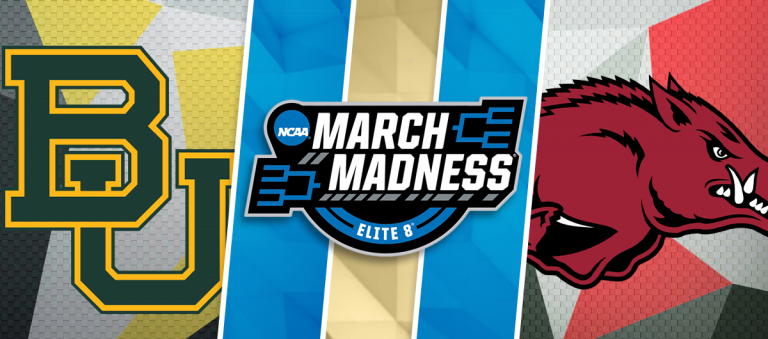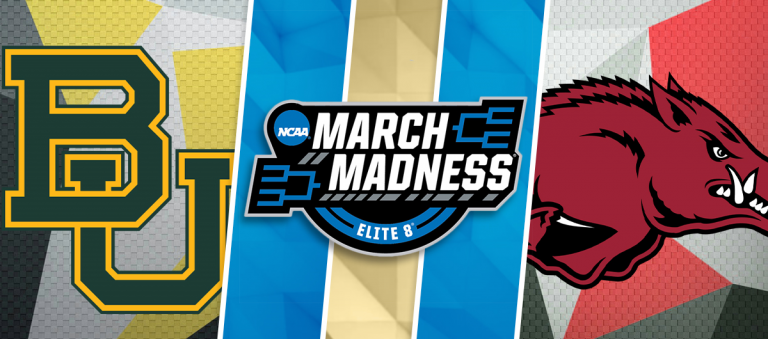 Last Meeting
These schools were both located in the former Southwest Conference together for 76 years. Arkansas moved on to the SEC in 1991; Baylor helped the Big 8 turn into the Big 12 five years later, when its exodus led to the dissolving of the SWC. The schools haven't met in basketball since December 2009.

Why Bet on Arkansas?
The Hogs (25-6) edged No. 15 Oral Roberts 72-70 in the Sweet 16 on Saturday. Davonte Davis hit a short jumper with 2.9 seconds left. It's the school's first trip to the Elite Eight since 1995.
Oral Roberts appeared on the cusp of becoming the first No. 15 seed in NCAA history to reach the Elite Eight. The Golden Eagles led by 12 points nearly five minutes into the second half.
Davis was stellar in the second half, scoring 14 of his 16 points on 6-of-11 shooting and grabbing five of his eight rebounds. Jalen Tate led the Razorbacks with 22 points and was one of four Hogs in double digits. Moses Moody added 14 and Justin Smith posted his sixth double-double of the season – and fifth over the last 16 games helping Arkansas post a 14-2 record over the span. He finished with 12 points and 14 rebounds. Smith pulled down 11 offensive rebounds with Arkansas grabbing 18 offensive boards to ORU's six.
Arkansas was down one (21-20) in the rebound battle at halftime but out-rebounded the Eagles 26-14 in the period to hold a 46-35 advantage for the game on the boards. Reserve guard Desi Stills played a big role.
Why Bet on Baylor?
The Bears (25-2) beat No. 5 Villanova 62-51 in the Sweet 16. Baylor moved on in the top half of the South regional semifinal despite making its fewest 3-pointers this season (three) at a season's-worst 15.8% clip. Villanova held a halftime lead, but the Bears strangled the Wildcats in the second half. The 51 points were the fewest scored in a game by Villanova since November 2018.The Wildcats had turned it over just six times in their previous two NCAA Tournament games and led the nation with 8.8 turnovers per game. But they had nine in the second half alone.
On a day when the rest of the team struggled from 3-point distance, Adam Flagler knocked down two of them and then sealed it with six straight free throws in the last minute, finishing with a game-high-tying 16 points.
Baylor turned it over just once in the second half and six times for the game, shooting 53.3 percent over the last 20 minutes to rally from that halftime deficit. Jared Butler, a Wade Trophy finalist and first-team All-American, had one of his toughest games of the season. He scored nine points, hitting just 1-of-9 from 3-point range and missing all three free throws, including the front end of a one-and-one late in the game.
Baylor is playing in its 3rd Elite 8 since 2010 – 1 of 12 programs to achieve that feat (Oregon can make 13). Baylor is 17-14 in 13 all-time NCAA Championships, including a 14-8 record in the Scott Drew era. With a win, BU can advance to its first Final Four in the modern era (1948 & 1950 were 8-team brackets).
Game Trends
Razorbacks are 4-0 ATS in their last 4 games following a ATS loss.
Razorbacks are 8-2 ATS in their last 10 games vs. a team with a winning straight up record.
Razorbacks are 10-3 ATS in their last 13 games overall.
Razorbacks are 8-3 ATS in their last 11 games following a straight up win.
Bears are 4-1 ATS in their last 5 NCAA Tournament games.
Bears are 9-3 ATS in their last 12 neutral site games.
Bears are 8-3 ATS in their last 11 neutral site games as a favorite.