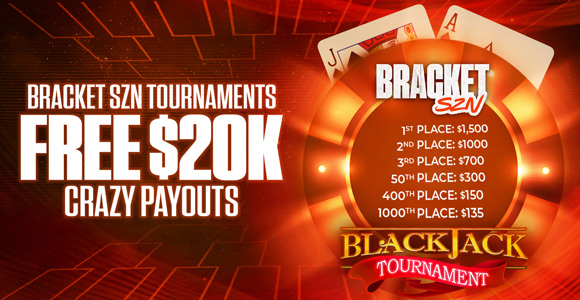 $20K IN PRIZES – BALL OUT PLAYING FREE BLACKJACK!
From now until Sunday, March 26th at 11:59 PM ET, compete for the top prize of $1,500 in our Free $20K Crazy Payouts Madness Tournament!
With 1,000 winners, five Crazy Payout Spots ranging from $135 to $300, and unlimited $5 rebuys, scoring mad Casino Cash is easier than ever!
BLACKJACK MADNESS ALL MONTH LONG!
We'll be hosting Crazy Payouts Tournaments with increasingly bigger prize pools + six Free $1K Crazy Flash Tournaments between now and April 3rd. Turn Free Blackjack into Casino Bonus Cash throughout March Madness!
Thank you for choosing to Play With the Best!
Términos y condiciones: One Free Entry per customer. The tournament runs from Monday, March 20th, 2023 at 12:00 AM ET, to Sunday, March 26h, 2023 at 11:59 PM ET. Players receive $1,000 in tournament casino chips (TOR). Tournament casino chips have no cash value. Unlimited $5 rebuys. Prizes are credited as casino bonus cash with a twenty-time (20x) rollover. In order to receive a prize, the player must have a remaining tournament balance (TOR). In a tie situation, if players have the same score, the player that posted the score last is higher up in the leaderboard. Additional Terms and Conditions apply. See website for full details.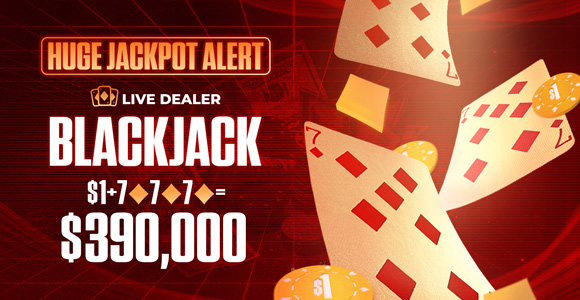 Reminder – Current Jackpot Is At $390,000!
The current Jackpot for our Live Dealer Blackjack Jackpot is up to $390,000!
With every dollar added to the pot increasing your chances of winning, now is the time to start playing. 
Will YOU win the big one?
It's the biggest Live Dealer Jackpot ever!
Here's How:
Play at one of our Live Casino Blackjack Tables.
Place a $1 Side Bet.
Hit Three Diamond 7s and win!
FOLLOW WEBPARTNERS ON SOCIAL MEDIA!
Instagram: https://www.instagram.com/webpartnersco/
Facebook Page: https://www.facebook.com/webpartnersco
Twitter: https://twitter.com/webpartnersco