Results to our 5th Annual WebPartners Affiliate March Madness Bracket Contest!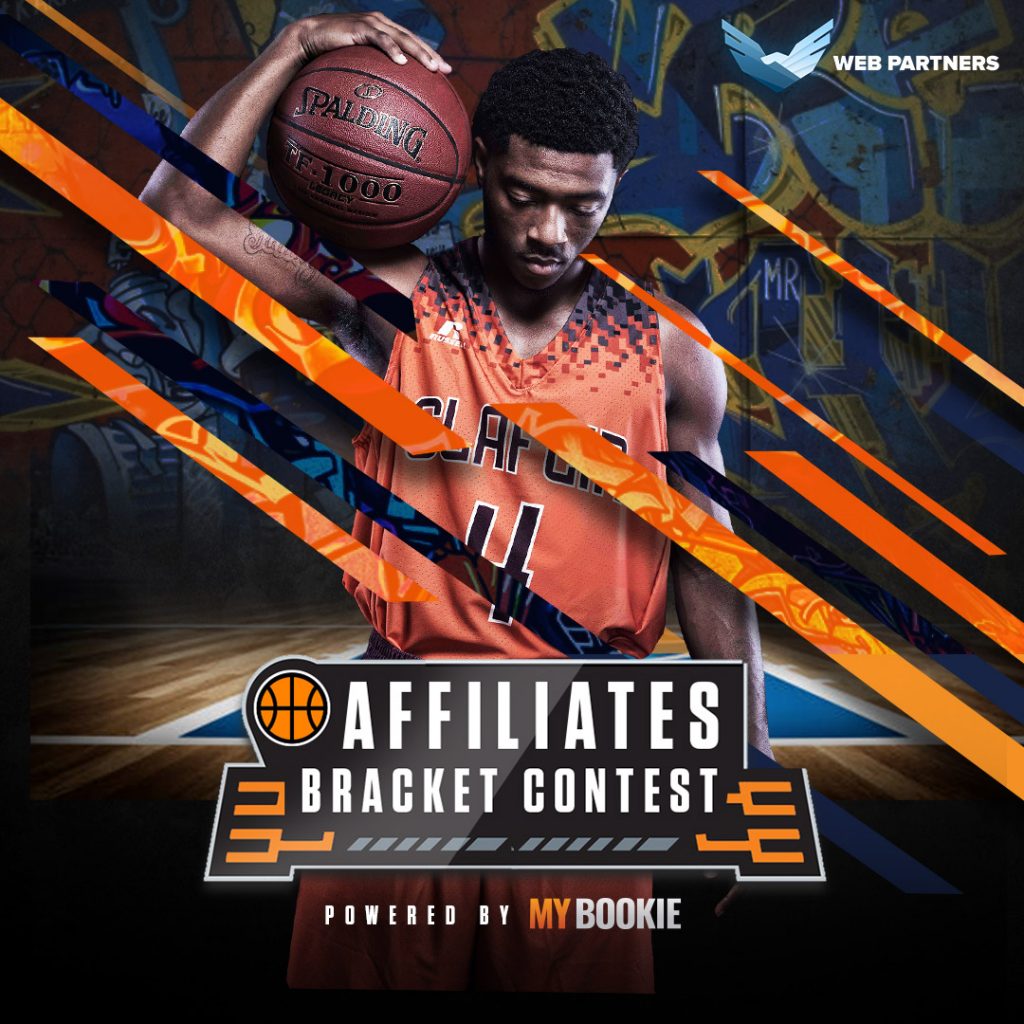 Web Partner Affiliates had the opportunity to enter the Affiliate Mybracket NCAA Basketball Tournament Contest through invite only Mybookie player account and redeeming a special Promo Code in the cashier to unlock this Private Affiliate Bracket Contest.
We had 42 entries this year playing for $1,000 in cash prizes.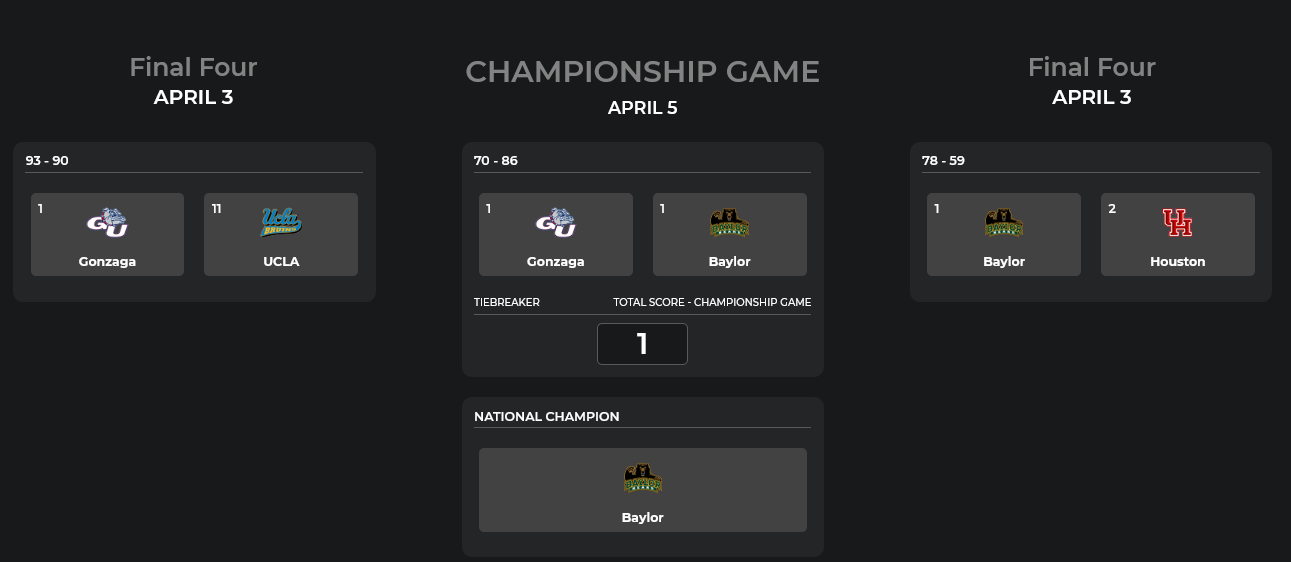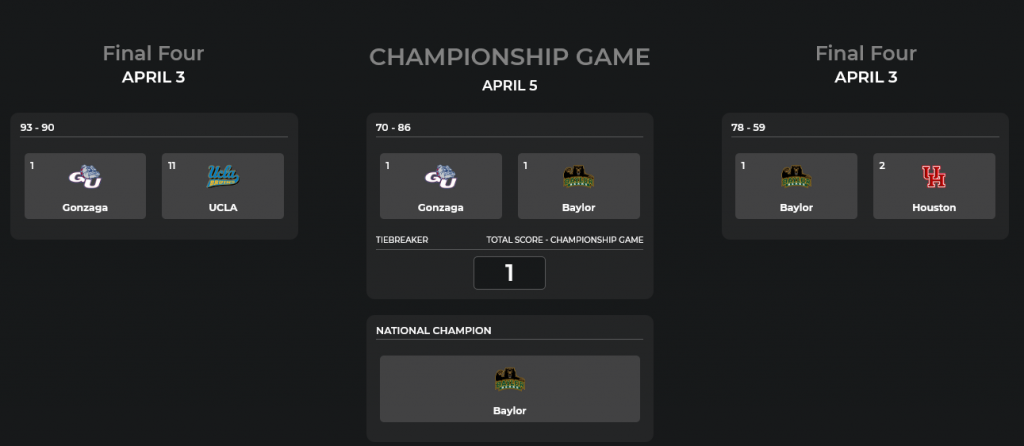 Prizes:
First place wins $600 cash
Second place earns $250
Third wins $150
Worst bracket will take $100
Please identify your bracket below to collect your prize. Please email us at contests@webpartners.co with your MB account number and screen shot of your bracket name. Credit will be added to your affiliate balance.
$1000 MYAFFILIATE BRACKET CONTEST 2021
| | | | | | |
| --- | --- | --- | --- | --- | --- |
| Rank | Name | Score | Tiebreaker | Sitio | Prizes |
| 1 | bracket-175043 | 109 | 156 | 1st Place | $600 |
| 2 | bracket-180445 | 108 | 153 | 2nd Place | $250 |
| 3 | bracket-179870 | 106 | 168 | 3rd Place | $100 |
| 4 | bracket-172482 | 105 | 161 | | |
| 5 | bracket-175805 | 101 | 157 | | |
| 6 | bracket-169687 | 100 | 165 | | |
| 7 | bracket-169915 | 96 | 165 | | |
| 8 | bracket-167394 | 92 | 189 | | |
| 9 | bracket-177943 | 91 | 164 | | |
| 9 | bracket-168237 | 91 | 170 | | |
| 42 | bracket-177211 | 15 | 1 | Worst Score | $100 |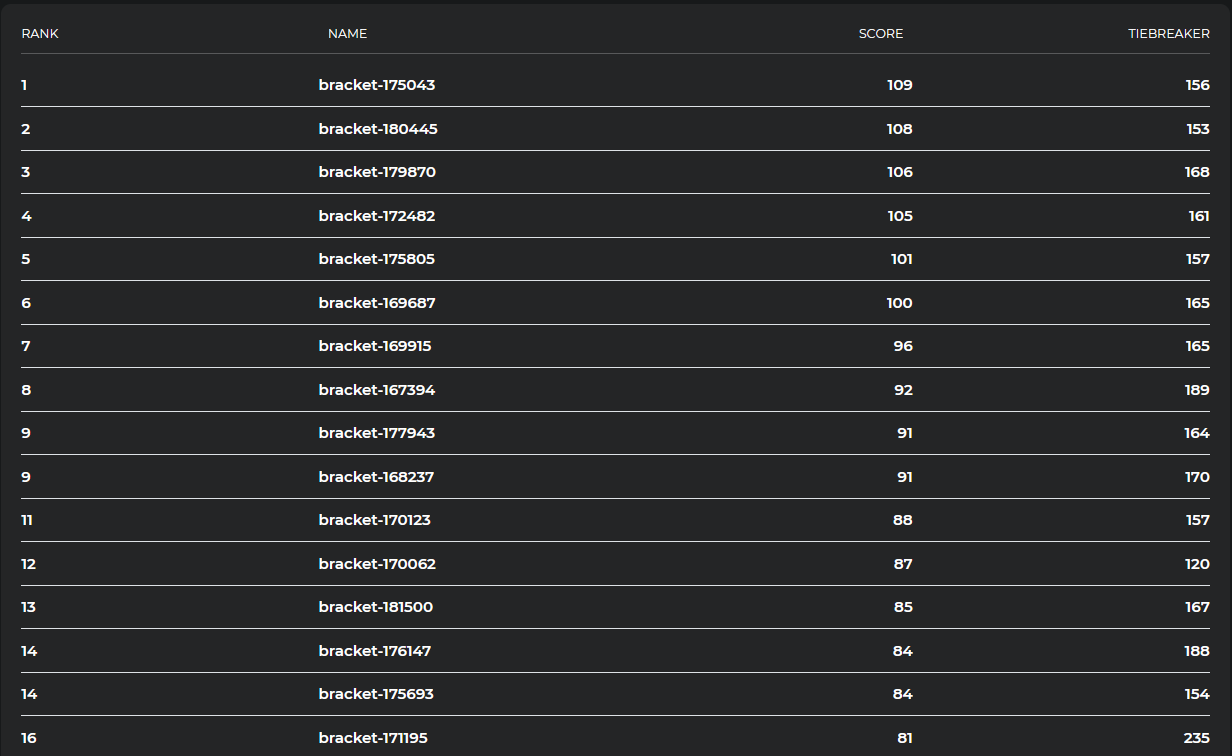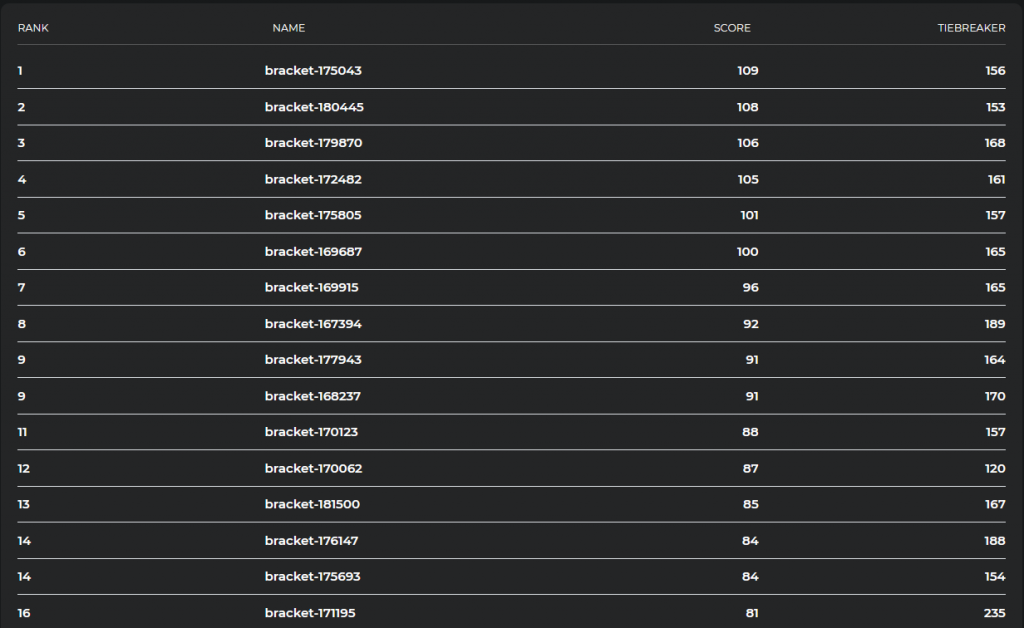 $100,000 MYBRACKET Contest Results 2021
| | | | | | |
| --- | --- | --- | --- | --- | --- |
| Rank | Name | Score | Tiebreaker | Sitio | Prize |
| 1 | bracket-184865-xdzwg | 174 | 139 | 1st Place | $25,000.00 |
| 2 | Bracket-25166 | 158 | 145 | 2nd Place | $12,500.00 |
| 3 | Bracket-32302 | 155 | 155 | 3rd Place | $5,000.00 |
| 4 | Bracket-52130 | 152 | 145 | 4th Place | $2,500.00 |
| 5 | Bracket-180887 | 151 | 187 | 5th Place | $1,500.00 |
| 5 | Bracket-27068 | 151 | 125 | 6th Place | $700.00 |
| 7 | Bracket-46314 | 149 | 126 | 7th Place | $500.00 |
| 8 | Bracket-35330 | 148 | 157 | 8th Place | $350.00 |
| 8 | Bracket-180496 | 148 | 181 | 9th Place | $250.00 |
| 8 | Bracket-26056 | 148 | 169 | 10th Place | $150.00 |