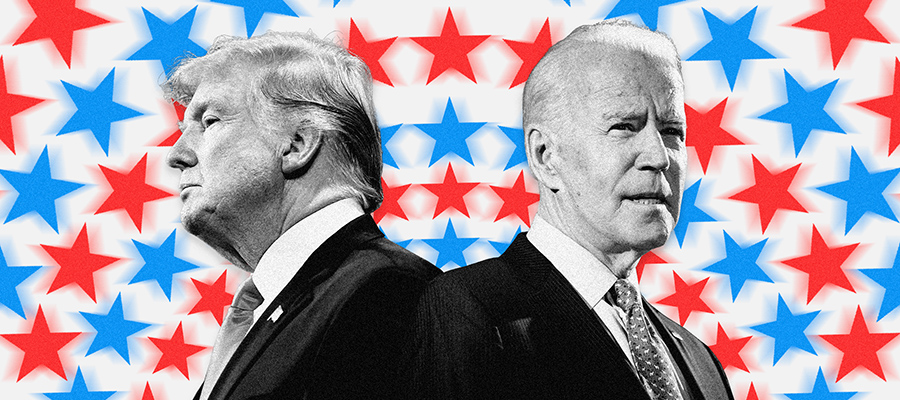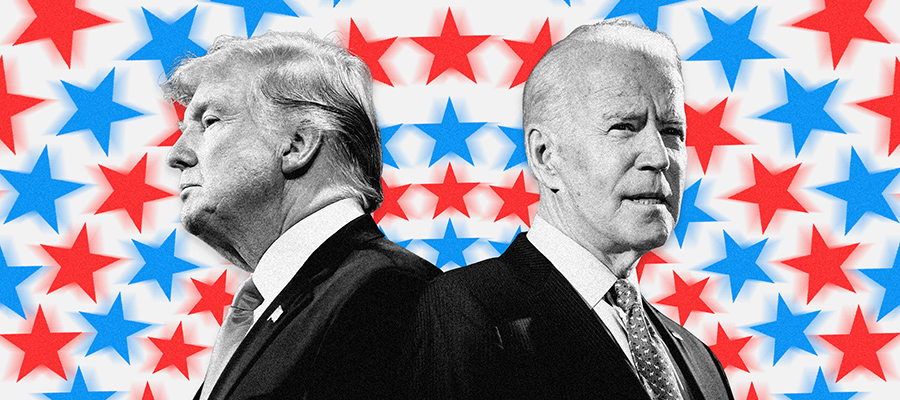 The US Presidential election between Donald Trump and Joe Biden occurring on Nov. 3, 2020, has surpassed the 2020 Super Bowl wagering handle taken by most Sportsbooks.
The odds have been moving up and down and switching favorite and dog pricing for over 4 years. No event has ever been built up like this before. Not to mention campaign spending has exceeded over $10 Billion dollars which is 3-4 billion over the last election in 2016.
Seriously, this political bantering and show has gotten out of hand. Like every other American pastime including hotdog eating, or betting on football the number of hotdogs eaten goes up and number of bets wagers increases. Elections are no different and this year may see the highest voting turnout ever and most money invested in election campaigning. Trump raised the bar for how to run a campaign rally. Flying between multiple cities day over day to meet with tens of thousands of Trumpeters. It's been quite the S&%$ show.
On the other hand, everybody's nice uncle "sleepy" Joe Biden does not exactly excite people the same and has not attacked Trump like he could have.
According to data taken from the European Sportsbook, as of this morning, $260 million dollars were wagered for the US Presidential election making it the most wagered on event in the history of betting.
The amount of money bet on the upcoming election surpassed last year's Super Bowl, Mayweather vs McGregor, the Kentucky Derby and the NBA Finals combined.
Head of Political Betting at GVC, Matthew Shaddick, stated "We're confidently predicting this will be the biggest, not only the biggest political betting event of all time, the single biggest betting market ever, in terms of one outcome in one market"
"In terms of the prices, if you go back to the start of June, the betting was pretty much 50/50. Biden took over as favorite for most of the summer. It closed up sort of around convention time, at the end of August, September, brought back to 50/50. Then it drifted back towards Biden, we had a flurry of money for Trump over the weekend, but a bit more money for Biden now. So, as we stand, European betting markets, and the U.S. market, betting exchanges, prediction markets are all pretty much in agreement, Biden's about a 60% favorite right about now, Trump at around 40%."
The biggest bet in the 2016 election came in for Clinton with £135,317 wagered. On Thursday, a UK Betfair customer placed a £500,000 bet on Joe Biden winning the 2020 election. This has been penned down as the largest wager of the 2020 campaign. Wagers are expected to keep coming in till the last minute of the election. In 2016, £75m was bet once polls closed. This suggests that much of the activity is likely to come in the latter stages of the race.
From a US betting perspective, the exact opposite is occurring. The betting markets are heavily driven with larger sized bets on Biden but the betting volume on Trump is outpacing bets on Biden at 2-1. The feedback from US Sportsbook managers are sharing more overall betting volume has been placed on Trump. The Trump betting percentage trend could be closer to 68% off all wagered placed have been on Trump to win.

How and where the money falls is a bit of mystery as not too many public sources can detail their liability. Social media and insider sources speculate the US election polls that stated Biden had a 70% probability to win are way off the betting markets showing a closer to 70/30 betting trend split on Trump to win.
All US books will have considerable liabilities on Trump to win the presidency and Republicans to win red state props.
The US books will need Biden to win and upset some red states. The EU books will need Trump to win outright and sweep the red states to be more profitable.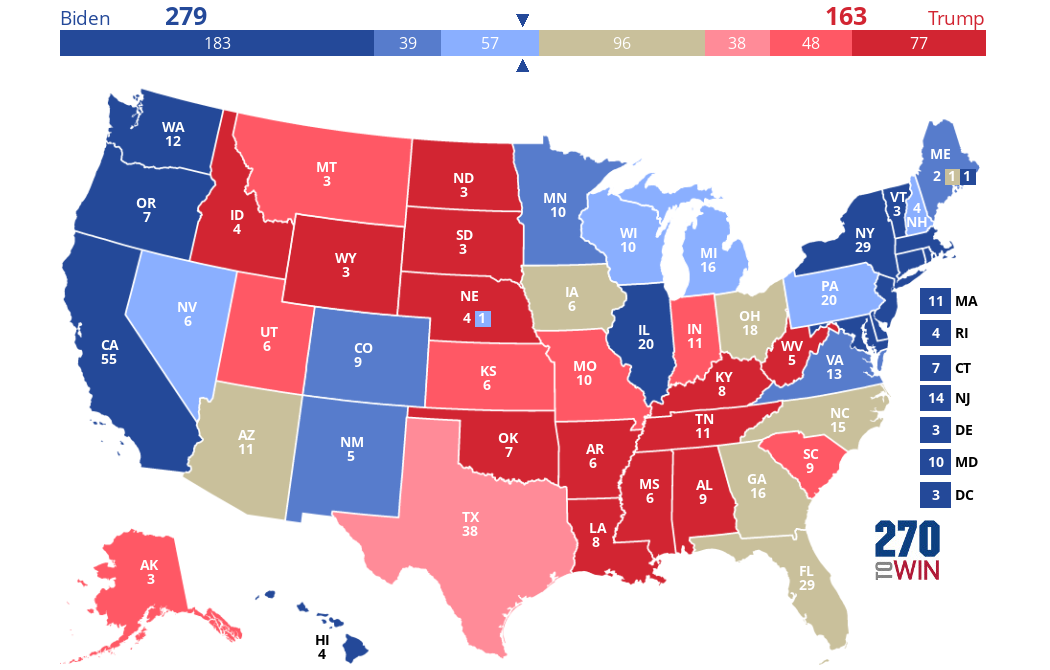 Click the map to create your own at
270toWin.com
2020 U.S. Presidential Election Odds
Donald J. Trump +130
Joe Biden -170
Kamala Harris +20000
Mike Pence +27500
Any other candidate +50000
Biden has maintained a lead throughout, but Trump appears to be ready to take charge. For an underdog, Donald sure has commanded the attention of the electorate in the past three weeks. He's been on a whirlwind tour, doing three rallies a day. In each one of his rallies, at least 20,000 people have shown up. Not only that, but some of Trump's surrogates have ended up at Biden rallies to give Joe something to think about.
Yes, the polls still appear to favor Biden. But it's hard to look past what's happening on the ground. More importantly? The U.S. Presidential Election happens once every four years. So, if we can jump on a dog at above even money, it makes sense to go for it.
U.S. Presidential Election Pick: Donald J. Trump

Electoral College Odds
Arizona
Democrat -140 / Republican +100
The Republican candidate, that's The Donald, continues to offer overlay odds. At even money, Trump is a great bet to take AZ. He had 25,000 show up to a rally last week and VP Mike Pence was in Arizona on Friday to continue to spread the word.

Florida
Republican -190 / Democrat +130
Even though Barrack Obama showed up last week to bolster Biden's chances in Florida, the Sunshine State has begun to move towards the Repubs. It's tough laying -190 on a state that many polls consider within 1 to 2 points in favor of Trump, but the Republican candidate did a great job shoring up his base in Florida.

North Carolina
Republican -120 / Democrat -120
Trump's final rally on Sunday is in North Carolina. People showed up early to get a glimpse of their fuhrer, uh, we mean Donald Trump. In any case, Trump and the Repubs look to have NC as well.

Pennsylvania
Democrat -175 / Republican +135
Tough, tough call in Pennsylvania. Joe Biden, though, said he'd phase out the oil industry. That's the death knell for him. Trump wins another swing state.

Wisconsin
Democrat -290/ Republican +195
We can't look past the +195 on The Donald. He took Wisconsin by a whisker against Hillary Clinton in 2016. So, even if the Orange One loses, we're okay knowing we made the right wager in a swing state that's much closer than the -290 on Sleepy Joe implies.
Mybookie Political lines here: